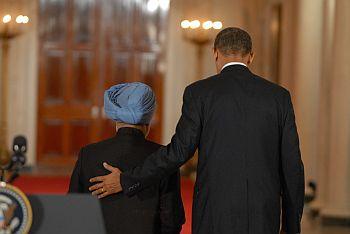 Mounting pressure on Pakistan, the United States on Wednesday joined India in underscoring the 'absolute imperative' to bring to justice the perpetrators of Mumbai attacks and underlining the need for 'resolute and credible steps' to eliminate 'safe havens' in Pakistan and Afghanistan which undermine the security and stability around the world.
Setting out to launch a 'new phase' in their strategic partnership, India and the US vowed to redouble their efforts to deal effectively with terrorism and in this regard signed a Memorandum of Understanding to enhance cooperation particularly in information sharing and capacity building.
During their 90-minute meeting, Prime Minister Manmohan Singh and President Barack Obama agreed to step up cooperation and collaboration on pressing global challenges like terrorism and climate change and decided to take new bilateral initiatives in education, healthcare and agriculture sectors.
The two sides launched 'Singh-Obama 21st Century Knowledge Initiative' to increase university linkages and agreed to expand the Fulbright-Nehru programme.
It was also decided that a Regional Global Disease Detection Centre would be set up in India as part of enhancing collaboration in the field of healthcare. An initiative in clean energy and climate change was also announced.
Singh and Obama noted that the India-US partnership is indispensable for global peace and security and the US president said his country looked forward to a 'stable and prosperous India playing an increasingly important role in world affairs.'
He said the Indo-US ties would be the 'defining relationship' in the 21st century. Meeting two days ahead of the first anniversary of Mumbai attacks, the two leaders discussed the progress in case amid India's disappointment over the lack of 'sincerity' and 'urgency' by Pakistan in prosecuting those held in this connection.
Reiterating his condemnation of the attacks, Obama joined Singh in underscoring the 'absolute imperative' to bring to justice the perpetrators of the terror strike.
Singh thanked Obama for the help extended by the US in investigation relating to the attacks. A Joint Statement issued after the talks said the two leaders emphasised their shared interest in the 'defeat of safe havens in Pakistan and Afghanistan.'
"They expressed their grave concern about the threat posed by terrorism and violent extremists emanating from India's neighbourhood, whose impact is felt beyond the region. "The two leaders agreed that resolute and credible steps must be taken to eliminate safe havens and sanctuaries that provide shelter to terrorists and their activities. These undermine security and stability in the region and around the world," it said.
Apparently referring to Pakistan, Singh said, "The forces of terrorism in our region pose a grave threat to the entire civilised world and have to be defeated." Obama said, "Obviously, Pakistan has an enormously important role in the security of the region, by making sure that the extremist organisations that often operate out of its territories are dealt with effectively."
Contending that Pakistan had begun to 'recognise that extremism, even if initially directed to the outside, can ultimately also have an adverse impact on their security internally,' the US president said progress had been seen in Pakistan's fight against terrorism as is indicated by Pakistan military action in West and South Waziristan.
With regard to Afghanistan, Obama said, "It is in our strategic interests, in our national security interests, to make sure that the Al Qaida and its extremist allies cannot operate effectively in those areas." He said the US-led international forces are going to 'dismantle and degrade their capabilities and ultimately dismantle and destroy their networks.'
Talking about the US campaign in Afghanistan over the last eight years, Obama said, "Some of those years, we did not have, I think, either the resources or the strategy to get the job done. It is my intention to finish the job."
His statement assumes significance as it comes just ahead of the new policy to be announced by Obama on Afghanistan, under which the US is expected to send thousands of more forces to the war-ravaged country.
Singh and Obama committed to continue mutually beneficial defence cooperation through the existing security dialogue, service-level exchanges, defence exercises and trade and technology transfer and collaboration.
Recognising the scope for cooperation in the areas of non-traditional threats to security, peacekeeping, humanitarian and disaster relief, and maritime security and protecting sea lanes of communication, they agreed to expedite necessary arrangements to facilitate these activities.
The two leaders agreed that strengthening high technology trade between their countries is in the spirit of their strategic dialogue and partnership. They renewed their shared commitment to technology security and that it is in their mutual interest to invigorate this area of their partnership.
The PM and the US president reaffirmed their shared vision of a world free of nuclear weapons and pledged to work together, as leaders of responsible states with advanced nuclear technology, for global non-proliferation and universal non-discriminatory and complete nuclear disarmament, the Joint Statement said.
Part of that vision is working together to ensure that all nations live up to their international obligations, it said. India reaffirmed its unilateral and voluntary moratorium on nuclear explosive testing while the US reaffirmed its testing moratorium and its commitment to ratify the Comprehensive Test Ban Treaty and bring it into force at an early date.
Both the leaders agreed to consult each other regularly and seek the early start of negotiations on a multilateral, non-discriminatory and internationally verifiable Fissile Material Cutoff Treaty at the Conference on Disarmament.
They noted that nuclear terrorism and clandestine networks are a matter of grave concern, a veiled reference to the proliferation network of father of Pakistan's nuclear programme, A Q Khan. Singh and Obama said they look forward to the April 2010 Nuclear Security Summit and working together with all participating states for the success of the meet.
On climate change, India and the US agreed to enter into a Green Partnership to address the global challenge, which they noted was linked to energy security and food security.
They said eliminating poverty and ensuring sustainable development and a clean energy future are among the foremost global objectives. Singh and Obama reaffirmed their intention to promote the full, effective and sustained implementation of the United Nations Framework Convention on Climate Change in accordance with the Bali Action Plan.
Recognising their special role in promoting a successful and substantive outcome at the upcoming UNFCCC meet in Copenhagen in December, they reaffirmed their intention to work together bilaterally and with all other countries for an agreed outcome.
The Copenhagen outcome 'must be comprehensive and cover mitigation, adaptation, finance and technology, and in accordance with the principle of common but differentiated responsibilities and respective capabilities, it should reflect emission reduction targets of developed countries and nationally appropriate mitigation actions of developing countries,' the Joint Statement said.
"There should be full transparency through appropriate processes as to the implementation of aforesaid mitigation actions. The outcome should further reflect the need for substantially scaled-up financial resources to support mitigation and adaptation in developing countries, in particular, for the poorest and most vulnerable," it said.
The outcome should also include measures for promoting technology development, dissemination and transfer and capacity building, including consideration of a centre or a network of centres to support and stimulate climate innovation, the Indo-US Joint Statement stressed.
Consistent with their national circumstances, the two sides resolved to take significant national mitigation actions that will strengthen the world's ability to combat climate change.
Image: Prime Minister Manmohan Singh and US President Barack Obama during the joint press conference in Washington, DC on Tuesday
Photograph: Paresh Gandhi
Text: Ajay Kaul in Washington, DC for PTI