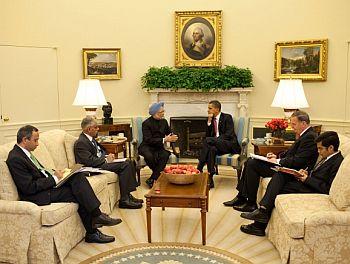 On the eve of its first anniversary, United States President Barack Obama reiterated his country's condemnation of the November 26 terrorist attacks in Mumbai, underscoring in a joint statement along with Prime Minister Manmohan Singh the absolute imperative to bring to justice the perpetrators.
They expressed their grave concern about the threat posed by terrorism and violent extremists emanating from India's neighborhood, whose impact is felt beyond the region.

The two leaders agreed that resolute and credible steps must be taken to eliminate safe havens and sanctuaries that provide shelter to terrorists and their activities. These undermine security and stability in the region and around the world. 
The two countries vowed to redouble their efforts to deal effectively with terrorism, while protecting their countries' common ideals and shared values and committed themselves to strengthening global consensus and legal regimes against terrorism. 
India and the United States decided on a Counterterrorism Cooperation Initiative to expand collaboration on counterterrorism, information sharing, and capacity building.
The two leaders reiterated their shared interest in the stability, development and independence of Afghanistan and in the defeat of terrorist safe havens in Pakistan and Afghanistan. 
President Obama appreciated India's role in reconstruction and rebuilding efforts in Afghanistan and the two leaders agreed to enhance their respective efforts for this goal.

Image: President Barack Obama and Prime Minister Singh meet in the Oval Office.
Photograph: Official White House Photo by Pete Souza