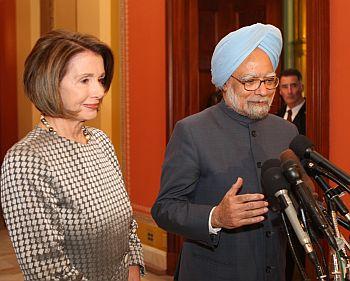 The United States has thanked India for extending hospitality to Tibetan spiritual leader, the Dalai Lama, a comment and a situation that isn't going to please China, which views the latter as a renegade and a splitist.
House of Representatives Speaker Nancy Pelosi on Monday thanked India for extending hospitality to the Dalai Lama, saying, "India is a country that is value based." 
These were the welcoming remarks that she made while receiving Prime Minister Manmohan Singh at the Capitol Hill.  She said that from Martin Luther King who received inspiration from Mahatma Gandhi, to the present generation, Americans have learnt 'about non-violence and how to get results (by using non violence).'
Pelosi invited the Prime Minister to revisit the US soon and address the joint session of Congress.  She also made a mention of the Mumbai attacks saying, "Almost one year to the day when India suffered the terrible loss of Mumbai, we gather today to see how we can learn from that experience." 
Dressed in a grey trouser suit, Pelosi seemed almost deferential in her manner.  She reminded members of the press 'the red carpet has been laid for the Prime Minister from the White House to the Capitol Hill' as Dr Singh 'is perhaps one of the most respected leaders in the world.'
The Prime Minister thanking the Speaker said that he was honoured and was here to give a new thrust to Indo-US relations.    
Image: Speaker of the House of Representatives Nancy Pelosi greets Prime Minister Dr Manmohan Singh at her office in Capitol Hill in Washington, Dc on Monday
Photograph: Mohammed Jaffer -- SnapsIndia    Text: ANI