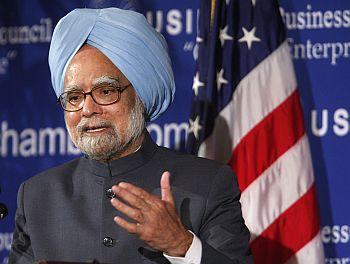 Prime Minister Dr Manmohan Singh said Monday that India has unambiguously said it's against Iran developing or acquiring nuclear weapons and that if the United Nations Security Council slaps sanctions against Tehran, it would support such action, but hoped United States President Obama's outreach to Iran on this issue would yield a compromise that doesn't necessitate such an outcome.
In the interaction that followed a major foreign policy speech he delivered at the Council on Foreign Relations, asked if India's envisaged strategic partnership could be complicated by differences between India and the US on Iran, Dr Singh made clear, "as far as Iran's nuclear weapon ambitions are concerned, I have stated it unambiguously on several occasions that we do not support the nuclear weapons ambitions of Iran."
He pointed out, "Iran is a signatory to the Nuclear Nonproliferation Treaty, as such it has all the rights that go with membership of the NPT -- that is the use of nuclear energy for peaceful purposes. (But) At the same time, it has obligations that go with its membership and this rules out the nuclear weapon part."
"So," the Prime Minister reiterated, "there is no ambiguity in our position. We are quite clear in our thinking that Iran should not go the nuclear weapon path -- that is inconsistent with its obligation as a member of the NPT."
But, with regard to the question of sanctions, if Iran does not acquiesce to the demands of the US-led international campaign that Iran open out all of its facilities for inspection so that its claim that it is not developing nuclear weapons can be verified, Dr Singh said, "If the Security Council in its wisdom passes any resolution, we have in the past abided by the decisions of the Security Council."
However, he said that "President Obama's approach has opened up a new pathway of engagement, without pre-conditions, and our hope is that it will yield results."
Dr Singh recalled that 'a few days before I left New Delhi, I had the privilege of meeting the Iranian Foreign Minister, who is an old student who studied in our country for many years. He was there… and while talking, he mentioned explicitly to me that Iran is encouraged by the messages it is receiving from the new Obama administration and that he is hopeful that they would lead to constructive productive results.'
"I hope that path -- if it does yield productive results -- that would be for the good of humanity at large," he added.
Image: PM Manmohan Singh speaks to the  US Chamber of Commerce in Washington on Monday
Photograph: Reuters