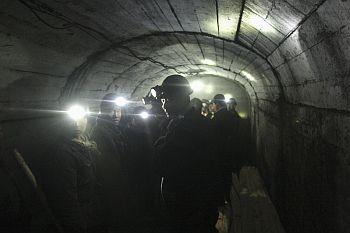 A powerful gas explosion tore through an underground coal mine in northeastern China on Saturday killing 42 miners and trapping 66.
In one of the deadliest incidents in a mine, the blast occurred at Xinxing mine in Heilongjiang province at 2.30 am, trapping 118 workers. State-run Xinhua news agency said a total of 528 miners were working in the mine at the time of the explosion, but 390 people managed to escape to safety.
With the recovery of more bodies, the toll jumped up to 42 and officials quoted by Xinhua said the figure could rise further in the mine located close to the border with Russia.
It said 42 people died on the spot while others were trapped in the mine, which is one-thirds underground. The explosion caused by a gas build-up, cut off ventilation and communication links with workers.
Xinhua said the Chinese Vice Premier Zhang Dejiang was rushing to the spot to direct the rescue operations. The mine is one of the top 500 state-owned enterprises in the provincial capital of Harbin.
China, which is highly dependent on coal for energy needs, has a dismal record of mine safety with thousands of people dying every year in mine accidents.
Image: Rescuers wait to go down Xinxing coal mine to search for survivors following a gas explosion at the mine in Hegang on Saturday
Photograph: Reuters       Text: PTI