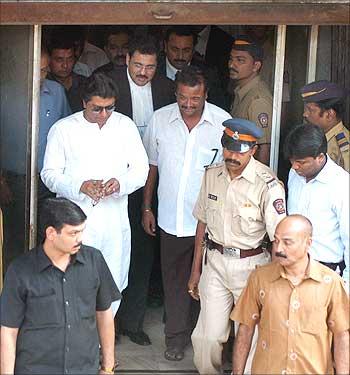 The Mumbai police filed a 73-page charge sheet in a local court against Maharashtra Navnirman Sena chief Raj Thackeray and 20 others for rioting and assault on North Indians appearing for a Railway recruitment examination in Mumbai in 2008.

The assault had taken place when the MNS was agitating against what they termed as the Railway's policy to issue advertisements in newspapers in North India to attract candidates from that region instead of giving priority to the "sons of the soil" (local people). A copy of the chargesheet was given to each accused, including Raj through their lawyer Sayaji Nangre. The MNS chief, standing near the witness box, said '"Ha" when the magistrate called out his name to ensure he was present in the court. Other accused said "Ji" to register their presence.

Attired in white Kurta Pyjama, Raj appeared to be calm and composed. The charge sheet enumerated the incident that happened in October last year when candidates from North India had come to Chetna College in suburban Bandra to appear for a railway recruitment examination.
Raj and his supporters are facing charges of tearing off posters put up at the examination centre and beating up candidates who appeared for the test. The accused have been charged under various sections of the IPC such as 142 (unlawful assembly), 144 (joining unlawful assembly with deadly weapons), 145 (joining unlawful assembly knowing it has been commanded to disperse), 153 (A) (promoting enmity between different groups on various grounds and doing acts prejudicial to maintenance of harmony), 153(B) (Imputations prejudicial to National Integration), 342 (wrongful confinement) and 506 (criminal intimidation).

After handing over copies of the charge sheet to the accused, the magistrate fixed September 13, 2010 as the next date of hearing in the case. Raj was arrested on October 21 last and granted bail on the same day by a Bandra magistrate.
Image:  Raj Thackeray at the Metropolitan court in Bandra, Mumbai.
Photograph: Sahil Salvi