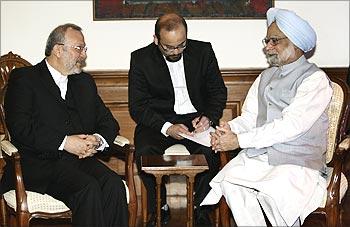 Iran's foreign minister Manouchehr Mottaki met Prime Minister Manmohan Singh and External Affairs Minister S M Krishna during his two-day visit to India.
Mottaki, who has frequently been in the news for defending Iran's controversial nuclear agenda, told a TV channel during an interview, "Leaders of India are looking for a new chapter of co-operation and relation with Iran and that is a constructive signal."
He said that Iran and India are 'two strong and important countries' which can bring 'peace and stability in Asia'.
Speaking about Iran's frequent disagreements with the Barack Obama-led United States administration, he blamed America's 'failed' foreign policy for the increase of extremism and unrest in Afghanistan, Iraq, Lebanon and Palestine
Mottaki also expressed concern about the rise of extremism in Afghanistan and Pakistan, warning that if the extremists managed to topple these governments, the terrorists "will go to the Arab countries and to India, to Central Asia and will affect the region. This is a common concern which the whole world and the region should have."
Image: Prime Minister Manmohan Singh with Iran's Foreign Minister Manouchehr Mottaki | Photograph: B Mathur/Reuters