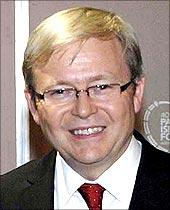 Australian Prime Minister Kevin Rudd on Thursday said his government is committed to taking every 'physically possible' step to ensure that all international students in his country remain safe.
"The Australian government is committed to doing all that is physically possible to ensure that all international students in Australia have safe and rewarding experience," he said at a luncheon meeting hosted by industry chambers Confederation of Indian Industry, Federation of Indian Chambers of Commerce and Industry and Assocham in New Delhi.
Rudd said Indian students represent the future of India-Australia business ties and they are "welcome guests in our country. We have have an obligation to extend the hand of friendship and support to all Indian students".
Indian students have been the target of frequent racial attacks in Australia. Prime Minister Manmohan Singh and External Affairs Minister S M Krishna have already taken up the issue with the Australia government.