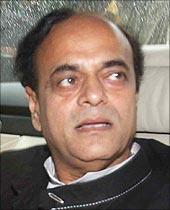 Raj Thackeray-led Maharashtra Navnirman Sena, whose members assaulted Samajwadi Party legislator Abu Asim Azmi in the Maharashtra assembly, on Wednesday said they would apologise to the House for their action but not to the Member of Legislative assembly.
"We will apologise in the assembly as it was not our intention to malign the image of the House. However, there is no question of apologising to Azmi," MNS leader Atul Sarpotdar said.
"The whole controversy started because of one person - Abu Asim Azmi. It was not our intention to lower the dignity of the House. What happened was a spontaneous reaction by our MLAs," Sarpotdar said.
Raj Thackeray had issued a statement, asking all MLAs in the assembly to take oath in Marathi, but Azmi deliberately chose to take the oath in Hindi, Sarpotdar alleged.
"MNS group leader in assembly, Bala Nandgaonkar, will speak to Raj Thackeray today on the issue of tendering an apology for Monday's incident and would, during the course of the day, apologise to the House," Sarpotdar said.
Meanwhile, senior Nationalist Congress Party leader Dilip Walse-Patil was today elected Speaker of the Maharashtra assembly. Bharatiya Janata Party MLA Girish Bapat, who was the Sena-BJP candidate for the post, backed Walse-Patil.
Senior BJP leader Eknath Khadse was elected Leader of Opposition unanimously.