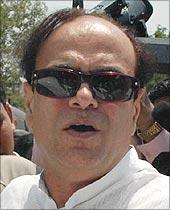 Tacitly supporting the Maharsahtra Navnirman Sena for its objection to Abu Azmi's oath taking in Hindi, the Shiv Sena on Tuesday attacked the Samajwadi Party Member of Legislative Assembly, saying he himself was responsible for the ruckus in the state assembly on the opening day.
The Sena mouthpiece Saamna, however, criticised MNS for the violence in the House.
In an editorial comment, it accused Azmi of insulting Marathi by taking the oath in Hindi.
"Azmi is a rich politician of Mumbai with property worth Rs 200 crore which he has earned in Maharashtra. Why cannot he learn Marathi," the paper asked.
It also slammed the MNS for adopting 'double standards', saying those who attacked Azmi spared those MLAs who took the oath in English.
The paper also alleged that Azmi 'stage-managed' the whole episode for 'publicity', adding that the Congress too had a hand in it.