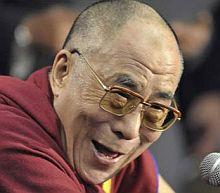 China has maintained a studied silence over Dalai Lama's ongoing visit to Arunachal Pradesh, but a state-run newspaper on Monday said he made the trip under pressure from India.
"India may make use of the Dalai Lama to solve the decade-long territorial conflict by encouraging his visit to southern Tibet (Arunachal Pradesh)," the official Global Times newspaper quoted a Chinese analyst as saying.
"The Dalai Lama went to southern Tibet at this critical moment probably because of pressure from India," Hu Shisheng, a researcher of Southern Asian studies at the China
Institutes of Contemporary International Relations, was quoted as saying by the sister publication of the ruling Communist Party's mouthpiece, People's Daily.
"By doing so, he can please the country that has hosted him for years," Hu said.
China has not officially reacted to the Dalai Lama's current visit to Arunachal Pradesh on which Beijing has staked claim as its territory.
The appearance and activities of the Dalai Lama in southern Tibet may foment anti-China sentiment among people living in the region, Hu said.
"When the conflict gets sharper and sharper, the Chinese government will have to face it and solve it in a way India has designed," Hu added.
The report noted that during his visit to the Tawang monastery on Sunday, the Dalai Lama had "spoke out against China".
The paper also noted that 'southern Tibet', sandwiched between Myanmar, Bhutan and China, is claimed by both China and India, with the latter the "de facto controller of the area."
"The visit took place amid reports of major military build-ups on both sides of the border, while little progress is being made to solve the years-long territorial conflict."
Meanwhile, another official newspaper, China Daily on Monday published an article based on a recent interview given by a top official dealing with the Tibet issue to say that China is always open to talks with the Dalai Lama.
"It is the central government's consistent stance that we are always open to talks. However, that could only be under the precondition that the Dalai Lama abandons his separatist remarks and activities," Zhu Weiqun, the executive vice-director of the United Front Work Department of the Communist Party of China was quoted as saying.
Commenting on the last round of talks between Beijing and envoys of the Dalai Lama held last year, Zhu said that Chinese officials have made it "crystal clear" to the "Tibet independence" plot that is completely unacceptable and rejected a memorandum submitted in this regard by the Dalai side.
At the same time, Zhu claimed that the Dalai Lama's so-called "autonomy blueprint" for Tibet has exposed his ambition to restore Tibet's widely denounced former feudal hierarchic system to the vast Himalayan region.
Image: Tibetan spiritual leader Dalai Lama