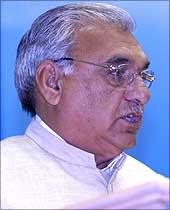 All the seven Independent Members of Legislative Assembly, who bailed out the minority Bhupinder Singh Hooda government in Haryana during a confidence vote in the state assembly, were rewarded with ministerial berths during the expansion of the 13-day-old Congress ministry on Saturday.
With the induction of six Cabinet ministers and three Ministers of State, the size of the Hooda ministry has gone up to ten, including the chief minister. Of the six Cabinet ministers sworn in by Governor Jagan Nath Pahadia at Raj Bhawan, five belong to Congress and one is an Independent MLA.
All the three Ministers of State inducted today are independent MLAs. The remaining three independent MLAs have been made Chief Parliamentary Secretaries, who were administered oath by the chief minister.
This was the first expansion of the fledgling ministry, which came to power for the second consecutive time with the support of these Independent MLAs, as the party was six short of majority in the 90-member House.
Hooda also administered oath to six Congress MLAs as Chief Parliamentary Secretaries as the state can have a maximum of 14 ministers in the Cabinet. Of the 13 ministers in the previous Hooda government, only two -- Ajay Yadav and Randeep Surjewala -- have been retained. Another minister in the previous government -- Harmohinder Singh Chatha -- has been made the Assembly Speaker.
Since talks with Haryana Janhit Congress-BL leader Kuldeep Bishnoi on joining the government remained inconclusive, some ministerial slots have been left vacant to accommodate its legislators in case of an agreement with the six member party.
Besides, Ajay Yadav and Randeep Surjewala, the other Cabinet ministers sworn in today are Mahender Partap Singh, Paramvir Singh and Geeta Bukal (all Congress) and Om Parkash Jain, an independent MLA. The three Independents sworn in as Ministers of State are Shiv Charan Sharma, Gopal Kanda and Sukhbir Kataria, who was sworn in later as he could not reach the Raj Bhawan in time.
The remaining three Independent MLAs sworn in as Chief Parliamentary Secretaries by Hooda at a separate function are Jaleb Khan, Prahlad Singh Gillan Khera and Sultan Singh. The six Congress MLAs sworn in as Chief Parliamentary Secretaries include two women Sharda Rathore and Anita Yadav.
The others are Ram Kishan Fauji, Rao Dan Singh, Dharam Vir and Jaiveer Balmiki. In the newly constituted ministry, Paramvir Singh, who was a parliamentary secretary in the previous regime, has been elevated as a vabinet minister.
However, two women ministers in the previous regime -- Kiran Chaudhary and Savitri Jindal, mother of Congress Member of Parliament Navin Jindal, who have won this time too -- have not been accommodated.