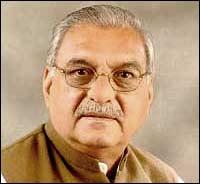 Haryana Governor Jaganath Pahadia has directed Bhupinder Singh Hooda, who was sworn in as the state Chief Minister for his second successive term, to prove his majority on the floor of the state assembly within a week.
Speaking to reporters after being sworn-in by Pahadia here this evening, Hooda told mediapersons that he had been given a week's time by the governor to prove majority in the House.
"We will be calling the assembly session shortly. After the trial of strength we will constitute the council of ministers," Hooda added.
Hooda took over as chief minister with the "unconditional" support of the seven newly elected independents and the lone Bahujan Samaj Party member after the party fell short of the simple majority by six seats in the 90-member state assembly.
The Congress finished with a tally of 40 and staked the claim to form the government after the seven independents extended support to it. The BSP member from Jagadhari Akram Khan on Sunday extended support to the Congress, Hooda told mediapersons after the swearing-in ceremony.
Sixty-two-year-old Hooda, who was chosen by the Congress president Sonia Gandhi late on Saturday night as the Congress legislature party leader, was administered the oath of office and secrecy by the governor at the Raj Bhawan in Chandigarh on Sunday evening.
Asked if the independents supporting the Congress will be rewarded with ministerial berths, he said, it was a "hypothetical question and time will tell".
To a question, he said the Haryana Janhit Congress was once part of "Congress parivar (family) and our party will welcome if they give unconditional support to us".
The HJC led by former Congress Member of Parliament Kuldeep Bishnoi has won six seats.
Image: Haryana Chief Minister Bhupinder Singh Hooda