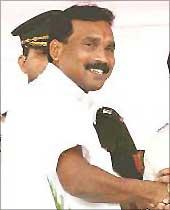 Former Jharkhand Chief Minister Madhu Koda, against whom the Enforcement Directorate and the Income Tax Department are investigating money laundering charges, will not be discharged from hospital on Saturday, as he has an upset  stomach.
"The doctors will take a decision on Saturday or the day after about his discharge," said Javed Akhtar, Public Relations officer of the Abdur Razzak Weavers Memorial Hospital.
Koda got himself admitted to the hospital on complaints of stomach pain on November 3, after the launch of Income Tax raids on his residence in connection with alleged hawala transactions and illegal investments, amounting to Rs 2000 crore.
The Enforcement Directorate and the Income Tax Department have instructed the hospital to inform them before his discharge.
Meanwhile, a Ranchi court on Saturday sent Vikash Sinha, an associate of former Jharkhand Chief Minister Madhu Koda, to 10 days in the custody of ED.
Vikash, who was remanded to a day's judicial custody on Friday, will now be taken to the Enforcement Directorate's headquarters in New Delhi for interrogation soon.
Vikash, brother of another Koda aide Binod Sinha, has been charged under sections 409 (criminal breach of trust), 420 (cheating), 465 (forgery), 120-B (criminal conspiracy) of IPC and other provisions of Prevention of Corruption Act by the ED.
He will be taken to Delhi for interrogation to probe charge of money laundering on behalf of Koda, Binod Sinha and others, sources said.
The ED meanwhile has also written to the Bureau of Immigration to alert all airports for the lookout notices it has issued for Binod Sinha and Sanjay Chowdhury.
"They are still not with us. Look out notices have been issued," sources said.
According to the ED, Vikash, in his Income Tax returns, mentioned Rs 5.6 lakh as the income during 2006-07 and quadrupled to Rs 24 lakh during 2007-08 and also accepted during questioning that he carried a cash of Rs 40 crore from Ranchi to Kolkata and transferred the money for alleged hawala transaction on behalf of his brother Binod and Koda.