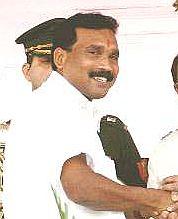 Income Tax sleuths on Thursday made it clear that former Jharkhand Chief Minister Madhu Koda will be arrested as soon as he is discharged from the hospital.
The Income Tax Department and Enforcement Directorate have asked the hospital, where Madhu Koda has been admitted, to inform them before discharging the beleaguered former Jharkhand CM, who is facing probe for alleged hawala transactions.
"We have been directed by both the IT and ED to inform them about his health bulletin and also tell them before we discharge Koda," P D Sinha, medical superintendent of the Abdur Razzak Weavers' Memorial Hospital, Apollo Group, said on Thursday.
"He was shifted from the ICU to a room in the ward around noon. He still has slight pain in his stomach," the medical superintendent said.
Koda, who is facing charges of hawala and illegal investments to the tune of more than Rs 2000 crore, got himself admitted to the ICU of the hospital in Ranchi on Tuesday after he complained of stomach ache.
The IT department has already sealed Koda's house in Ranchi.
The ED had also issued a summons to Koda and seven of his aides in connection with alleged hawala transactions.
Koda and his aides have been directed to present themselves before the directorate on November 9.
An ED team from Delhi has arrived in Ranchi to obtain documents on the alleged hawala transactions carried out by Koda and his associates. It intends to obtain material evidence and documents seized by the IT department and source information from the records of the tax searches against Koda and others.
After witnessing nation-wide raids for three days to unearth the assets of the former Jharkhand chief minister and his associates, Koda had on Tuesday complained of a pain in his abdomen, giddiness and vomiting. He was admitted to the Intensive Care Unit of the Apollo Hospital in Ranchi.
The IT department has set November 6 as the deadline for six of Koda's alleged aides to appear before it to explain certain transactions and events. They have been told that if they fail to appear, they will be liable for legal action.