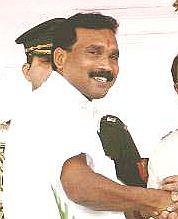 The income tax department on Wednesday sealed some rooms and almirahs at the Ranchi residence of former Jharkhand chief minister Madhu Koda, embroiled in the alleged hawala transaction and illegal investments running into more than Rs 2,000 crore.
The Enforcement Directorate has, meanwhile, served summons to him at the hospital where he is admitted.
Tax department officials said the searches were continuing and they had issued prohibitory orders after sealing the properties of Koda and his associates across the country.
The prohibitory orders are issued under Section 132 of the Income Tax Act whenever a property or material is seized by the department.
A team of ED officials that reached Ranchi on Tuesday has taken possession of documents relating to alleged hawala transaction surfaced during the IT searches.
The former Jharkhand chief minister and at least eight of his associates, facing charges of money laundering, have been summoned by the ED for questioning on alleged hawala transactions and investments, the officials said.
They said the summons were served to Koda on Tuesday at the hospital in Ranchi where he was admitted following complaints of high blood pressure and stomachache.
Both the ED and the income tax department have started scrutiny of the documents related to alleged hawala transactions and investments running into crores of rupees by Koda and his associates, they said.
The tax department, which is still carrying out search operations in Ranchi and Mumbai, was collecting information and documents sent by various directorates of the IT department from Delhi, Kolkata, Mumbai, Lucknow, Nasik, and Jamshedpur.
Koda and at least eight others have been accused of amassing property worth crores of rupees in India and abroad, including in UAE, Thailand, Indonesia, Singapore and Liberia.
The ED had earlier filed an Enforcement Case Information Report (equivalent to a first information report) before the Prevention of Money Laundering Act court in Ranchi against Koda, his cabinet colleagues Kamlesh Singh, Bhanu Pratap Shahi and Bhandu Tirkey besides five others.
Koda, who got himself admitted to a hospital with complaints of high blood pressure and stomachache, was stable on Wednesday, doctors attending on him said.
"His stomachache is under control and blood pressure has come down," said Javed Akhtar, public relations officer of the Abdur Razzak Memorial Weavers' Hospital, where Koda is admitted.
Image: former Jharkhand chief minister Madhu Koda