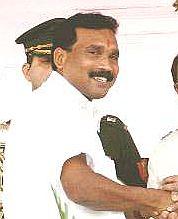 Former Jharkhand Chief Minister Madhu Koda did not spare even government schemes to allegedly make illegal profits for himself, according to the Income Tax Department.
The IT department officials, who have been scrutinising the voluminous documents of Koda, alleged that the former chief minister had made an investment through his associates in the government-sponsored rural electrification programme in Uttar Pradesh and earned a profit worth Rs 30 crore.
According to the documents seized during searches at Lucknow, the Income Tax Department claimed to have found that Koda, through his associates, had made a profit of Rs 30 crore in a rural electrification contract worth Rs 150 crore.
The IT officials said Koda had also made an investment worth nearly Rs 22 crore in a leading glass manufacturing company -- Indo Asahi -- as part of the alleged illegal wealth accumulated by him during his tenure as minister and later as chief minister.
The IT officials alleged that the money was routed to the glass company through newly floated financial companies Anjani Putra Ispat Limited and Creative Fiscal Services by Koda.
The IT department is actively probing Koda's routing of money through illegal hawala channels amid allegations that he has amassed illegal property to the tune of Rs 2,000 crore while serving as a public servant. The officials claimed that Koda had also re-routed 110 million dollars (Rs 560 crore) out of the country through hawala operations.
Searches were conducted at 65 premises of Koda and his associates in Delhi, Kolkata, Mumbai, Lucknow, Nasik, Ranchi, Chaibasa and Jamshedpur, in the wake of allegations that he had amassed illegal wealth during his tenure as the chief minister and state mines minister. The hawala amount includes more than $100 million sent to Dubai to a person identified as Abdul Bhai, the sources said.
Other hawala transactions included sending $10 million to Dubai and $ 2 million to Thailand through Arvind Vyas. The evidence regarding these transactions surfaced during search operations at the residence of Lalit Jalan, an alleged associate of Koda.
The department has also found illegal deposits in bank accounts and transactions in cash and cheques involving three companies in Mumbai through a hawala operator, Manoj Punamia, who was a director in these companies.