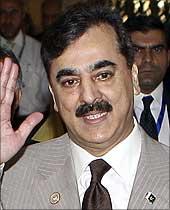 Pakistani Prime Minister Yousuf Raza Gilani on Saturday made a strong pitch for the resumption of the Indo-Pak composite dialogue, saying Pakistan wants good relations with its neighbours "on the basis of equality".
Favouring resumption of the stalled dialogue process, Gilani said Prime Minister Manmohan Singh had also stated that he was ready for discussions on all core issues.
Responding to a question on whether Pakistan had "concrete evidence" on allegations of India backing militants in Pakistan's tribal areas, he said the issue would be taken up "when we sit at the negotiating table".
"Manmohan Singh has said he is ready for discussions on all core issues. Our objective is that the composite dialogue should be held so that we can discuss all such issues," Gilani told reporters on the sidelines of an official function in Lahore.
Pakistan, he said, wants good relations with its neighbours "on the basis of equality".
Information Minister Qamar Zaman Kaira and Interior Minister Rehman Malik recently claimed that Pakistani troops have found India-made arms and equipment in South Waziristan.
Despite these claims by the ministers and chief military spokesman Maj Gen Athar Abbas, Pakistan is yet to present any evidence or materials to back up its allegations.
India has dismissed Pakistani allegations as baseless.
India suspended the composite dialogue in the wake of last year's Mumbai attacks, which were carried out by the Pakistan-based Lashkar-e-Tayiba.
In response to another question, Gilani said the military operation against the Taliban in South Waziristan is being conducted very effectively.
"Inshallah, the operation will be completed before the expected timeframe... It will not take very long due to the support from the people," he said without giving details.
The Pakistan Army claims it has killed over 450 militants and captured several key Taliban bases since it launched the operation in mid-October.
Asked about the fate of the National Reconciliation Ordinance that was issued by former military ruler Pervez Musharraf to grant immunity to President Asif Ali Zardari and other Pakistan People's Party leaders in graft cases, Gilani said the controversial law had "been buried forever".
The government had decided to present the NRO in parliament for ratification in accordance with a verdict of the Supreme Court.
However, this plan was dropped due to opposition from political parties, Gilani said.
"The sense of the House was that it should not be brought to parliament and we respected that," he said.
In response to another question about the scrapping of the President's sweeping powers to dissolve parliament and dismiss the Prime Minister, Gilani said these power are "irrelevant under the circumstances".
"When the judiciary is so active, (these powers) would be immediately challenged if they were used," he said.
Image: Pakistani Prime Minister Yousuf Raza Gilani