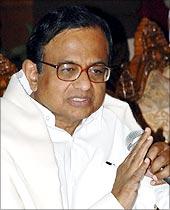 At least two persons have been arrested in Pakistan on the advice of the Federal Bureau of Investigation, Home Minister P Chidambaram said on Friday, indicating an 'obvious Pakistan link' to David Coleman Headley.
Headly was nabbed by the American agency for plotting a major attack in India at the behest of terror group Lashkar-e-Tayiba.
"There is a Pakistan link. Dave Headley visited Pakistan a number of times and I think on the advice of the FBI, two or perhaps more people have been arrested in Pakistan," he told reporters.
He was replying to a question about the Pakistan link to the plot to attack the prestigious National Defence College in New Delhi, in connection to which the FBI has arrested Headley and Tahawwur Hussain Rana, a Pakistan-born Canadian citizen and a resident of Chicago.
"There is an obvious Pakistan link," he said, referring to the affidavits filed by the FBI in a Chicago court.
On whether the Indian government was informed about it, Chidambaram replied in the affirmative.
"If you are asking whether I was informed about it, the answer if yes. If the question is whether you will be informed about it, the answer is no," he quipped.
To a similar poser to Dr Singh at a joint press conference with his Swedish counterpart Fredrik Reinfeldt in Delhi, the prime minister said, "To the extent I have information on this Headley affair, I don't think we have received any information from the Pakistani side."
Details of conversation between Headley and Rana, submitted by prosecutors to the Chicago court, indicates that the Lashkar-e-Tayiba was giving priority to its attack on the National Defence College over other targets.
The reference to the National Defence College as a target was made by the duo during their conversation on September 7, which was recorded by the FBI.