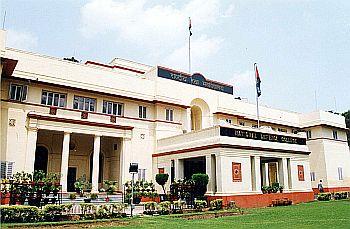 David Coleman Headley and Tahawwur Hussain Rana, arrested last month by the Federal Bureau of Investigation, were part of a Lashkar-e-Tayiba plan of a major terror attack on the facilities of a Danish newspaper and the National Defence College in New Delhi, federal prosecutors have said.
Opposing the bail application of Rana before a Chicago court on Tuesday, attorneys from the US Department of Justice said Rana is a danger to the community and might leave the country, if released.
Rana faces a maximum sentence of 30 years, if proved guilty. Pakistani-born Canadian citizen and a resident of Chicago, Rana was arrested by the FBI on terror charges along with his school friend Headley, a US citizen, who was also arrested on the charges of plotting attacks in Denmark and India.
Headley's bail plea is scheduled for December. The reference to the National Defence College, New Delhi, as a target was made by the duo during their conversations on September 7, which was recorded by the FBI.
"In the same conversation, Headley and Rana discussed Denmark and other targets, including the National Defence College in India -- Rana, in fact, used the English word 'target' in this discussion," the FBI informed the court.
In its amended complaint filed before the Chicago Court last month, the FBI said Rana and Headley had discussed and named multiple targets of their planning in their conversation on September 7.
"More specifically, Headley listed four targets, one of which was 'Denmark', then commented after that 'if I will pray for any other action call me a thief. God may help me complete this task.' Later in this same conversation, Rana asked Headley to 'pass along a message' to Individual B (unidentified LeT leader)," the FBI said in its previous affidavit.
The two Chicago-residents then discussed a fifth target. More specifically, Headley referred to the earlier discussion, and stated words to the effect of 'oh my friend, not four, five, five."
While Rana laughed, Headley stated, "Defence College twice,' and Rana commented 'right, this is it. I knew already.' After other discussion, Rana continued, 'That one, uh, I thought that was the target.' Headley responded, 'I don't know but once he comes then it will be known, but I am going to ask him to do that one first," the FBI said.
The conversation indicates that the LeT was giving priority to its attack on the National Defence College in New Delhi over the other targets, including the facilities of the Danish newspaper, which had published a cartoon of the Prophet Mohammad. The Department of Justice also contested Rana's plea in his bail application that he was 'duped' by Headley and that he is innocent.
"There is nothing to suggest that Rana was 'duped' by Headley or somehow unaware of the illicit nature of their efforts. To the contrary, in numerous conversations, Rana and Headley engaged in coded exchanges to hide the true nature of their communications," said US Attorney Patrick J Fitzgerald in submissions before the court on Tuesday.
Rana in his bail application said there are many individuals willing to pledge their homes and savings as security for Defendant's release. He offered to put as many as six houses as security for the bail application, all having a combined value of nearly a million dollars.
However, the federal prosecutors opposed the bail application and the court would continue with its hearing now scheduled for November 10. Noting that there is nothing to suggest that Rana was merely ridiculing Headley, federal prosecutors said Rana was an active participant in this conversation.
"Beyond knowing and discussing that Denmark was a 'target', the evidence demonstrates that Rana actively participated in furthering the efforts of the conspirators," it said.
"In particular, Rana provided a cover story for David Headley, who performed extensive video surveillance of the Jyllands-Posten facility, video that was recovered during Headley's arrest," it stated.
Text: Lalit K Jha in Washington, DC for PTI
Image courtsey: National Defence College, Government of India