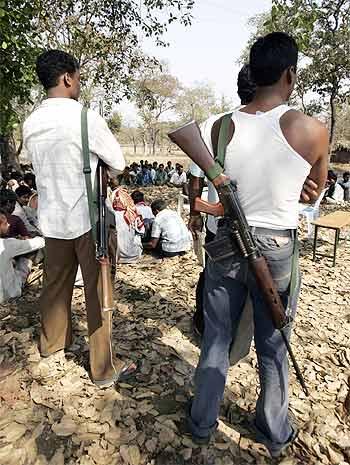 Indian security forces and anti-government Maoists should ensure civilians' safety during their armed struggle in central India and elsewhere, Human Rights Watch has said.
The Maoists -- also called Naxalites-- operate in nearly 200 of India's 600 districts.
"Government and Maoists, who claim to be acting on behalf of India's poorest people, can be undermined by the atrocities by both sides against these very same people," said Meenakshi Ganguly, a researcher at Human Rights Watch.
"Locals are at risk of being caught in the middle of the fighting – killed, wounded, abducted, forced to take sides, and then risk retribution," she said.
Operation Green Hunt, the country's new counter-insurgency initiative, attempts to wipe out the Maoist threat from the country's hinterlands. The Maoists claim they are fighting for the rights of the poorest of the poor in India while the government claims the Naxalites are blocking its development initiatives and should engage in peaceful advocacy.
"The Maoists have used violence to highlight the government's failure to address poverty and the harm caused by big infrastructure projects," Ganguly said. "But their own abusive methods call into question the sincerity of their claims."
The human rights orghanisation and others have documented widespread abuses by Indian government forces, including arbitrary arrests, torture, and unlawful killings.
HRW urged the government to ensure that Salwa Judum -- a vigilante movement formed to take on the Maoists -- and state forces responsible for human rights violations are properly prosecuted.
"While senior officials have been saying the right thing, the real test is what happens on the ground. The government needs to send a strong message to Operation Green Hunt forces that human rights violations will not be tolerated and prosecute those responsible for past abuses," Ganguly said.
HRW also called on the Centre and state governments to protect freedom of expression and to avoid conflating sympathy for concerns expressed by the Maoists with criminal complicity in acts of violence or intimidation. The West Bengal government recently accused some filmmakers, writers, and activists of supporting the Maoists merely because they supported groups protesting police violence.
"The government should ensure that those who stand up for human rights are not branded criminal collaborators with the Maoists," Ganguly said. "This is not how a democracy behaves. Above all, both sides need to understand that a continuing cycle of abuse will not solve the problems faced by India's most impoverished people."
Image: Salwa Judum members at a forest camp in Jharkhand. Photograph: Reuters