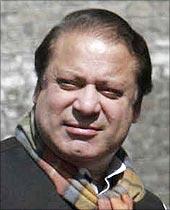 In an apparent bid to ensure his party's victory in the forthcoming Gilgit-Baltistan elections, Pakistan Muslim League-N chief Nawaz Sharif has one again played the 'Kashmir' card.
Addressing an election rally in Gilgit-Baltistan's Ghanchay region, Sharif said he does not mince words to deceive people and stressed that 'the day is not far when Kashmir will be free.'
Nawaz urged the people to make the 'Lion', the PML-N's symbol, emerge victorious in the November 12 elections.
Punjab Chief Minister Shahbaz Sharif and Opposition Leader in the National Assembly Chaudhury Nisar Ali Khan also addressed the public rally and urged people to vote in favour of the PML-N.