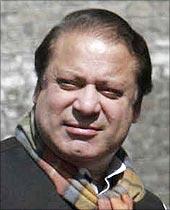 In an apparent bid to ensure his party's victory in the forthcoming Gilgit-Baltistan elections, Pakistan Muslim League-N chief Nawaz Sharif [ Images ] has one again played the 'Kashmir' card.
Addressing an election rally in Gilgit-Baltistan's Ghanchay region, Sharif said he does not mince words to deceive people and stressed that 'the day is not far when Kashmir [ Images ] will be free.'
Nawaz urged the people to make the 'Lion', the PML-N's symbol, emerge victorious in the November 12 elections.
Punjab [ Images ] Chief Minister Shahbaz Sharif and Opposition Leader in the National Assembly Chaudhury Nisar Ali Khan also addressed the public rally and urged people to vote in favour of the PML-N.