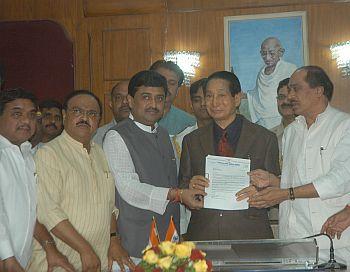 Chief Minister designate Ashok Chavan on Friday met governor S C Jamir and staked claim to form the next government, 15 days after the Congress-Nationalist Congress Party haggled over the portfolio issue.
Chavan, accompanied by NCP legislature party leader Chhagan Bhujbal, who will be the Deputy Chief Minister, met Jamir and handed over the letters of support to stake claim.
The Congress-NCP alliance has a combined strength of 144 in the 288-member House, just one short of a simple majority.
Sources said Chavan has claimed support of 170 MLAs, including some independents and a few other MLAs. The new government is scheduled to be sworn in on Saturday evening, a fortnight after the alliance rode back to power for the third time in a row.
The delay in staking claim was due to NCP making a strong demand for sticking to the 1999 formula, under which Congress would get chief ministership but NCP would get key portfolios like Home, Finance, Power and PWD.
Chavan, who was in Delhi since morning holding discussions with Congress president Sonia Gandhi and All India Congress Committee General Secretary in-charge of Maharashtra A K Antony on the composition of the ministry, returned to Mumbai on Friday evening and drove straight to Raj Bhavan.
Maharashtra Pradesh Congress Committee President Manikrao Thakre, state NCP chief R R Patil, Mumbai Congress president Kripashankar Singh and a few independent MLAs also accompanied Chavan.
Chavan said while 20 ministers from the NCP will be sworn in on Saturday, the number of ministers from the Congress to take oath in the first phase was not yet decided.
The size of the council of ministers cannot exceed 43, including the chief minister.
Asked whether all the remaining 23 ministers would be of the Congress, Chavan said the exact number of ministers from the party was not yet decided.
"You will get to know on Saturday. Some Congress ministers would be sworn in on Saturday and remaining during the expansion of the ministry later," he said.
Chavan was dismissive of a question about whether differences still persisted between the decade-old coalition partners, saying "there are no differences... the deadlock has been resolved."

The first meeting of the new cabinet would be held on November 8 where the date for the start of the inaugural session of the 12th Assembly would be decided, he said.
The 170 MLAs, who have signed the letter of support include those of Bharip Bahujan Mahasangh, Bahujan Vikas Aghadi, Rashtriya Samaj Paksha, besides independents, Chavan said.