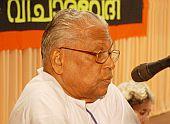 The Kerala government has decided to provide a relief amount of Rs 5 lakh each to the families of the children, who drowned to death in the Chaliyar river on November 4.

Eight children had lost their lives when a country boat ferrying the students of the Areekode SS higher secondary school had capsized in the middle of the river.
Announcing the relief package during a media briefing in Thiruvananthapuram on Friday, Chief Minister VS Achuthanandan said a hanging bridge would be constructed for the school's students at the bay where the boat was plying.

Achuthanandan also announced that the government would be appointing a team to assess the number of schools located on riverbanks and boat services being utilised by them.


The chief minister also promised to look into complaints of private bus staffers behaving rudely to students and denying them a ride owing to the concession rates they avail.
Students of the tragedy-hit SS higher secondary school avoid private buses for the same reason. They are forced to take the dangerous route through the river.

State Education Minister MA Baby has announced that the government would constitute special police teams and motor vehicle officer's teams to catch those who misbehaved with students.