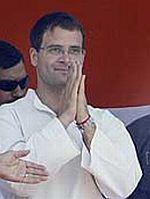 On his visit to Egypt, Congress leader Rahul Gandhi met Arab League chief Amr Musa and discussed the current political situation in the Middle East and South Asia, including Indo-Pak ties.
Rahul met Amr Musa on Wednesday and the two leaders discussed the recent developments and peace talks in Palestine and Israel, the Obama administration's stand in this respect and the pressure Israel is exerting to evade the two-state solution, a statement issued by the Arab League said.
The Congress MP briefed Musa on the Indian expertise in realising development, combating poverty, spreading education and improving health services, it said.
The League, a 22-member body consisting of Arab states, was formed in 1946 to draw closer relations between member states and coordinate collaboration between them to safeguard their independence and sovereignty.
During an interaction with students of the prestigious Cairo University, Rahul pressed for enhancing of relations between the two nations in the field of education and student exchange programmes. He urged global communities to combat terrorism, as it poses a major threat to both national and international security.
Gandhi was speaking during a symposium on the role of youth in the development process. He met Dr Mohamed Kamal, Director of the Developing Countries Studies Center at the varsity. The Congress leader pointed out the important role played by youth in the development process.
On the global financial crisis, Gandhi said it did not affect India, as the economy there is 'diversified, reasonably well-balanced and resilient.'
Gandhi pointed out to the importance of achieving social justice across the world and putting an end to poverty. Kamal asserted the depth of Egyptian-Indian ties, voicing hope that his visit will herald a new era of relations between the two countries, especially in the field of student exchange programmes and education.