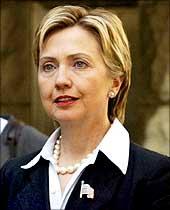 Describing her recent visit to Islamabad as one aimed at clearing the air, United States Secretary of State Hillary Clinton has said Pakistanis had a 'sort of pent- up frustration' with the US over its policy in the region, which she tried to address.
"The whole purpose of my trip was to try to clear the air with the Pakistani people and the government, to reassert our support for Pakistan, particularly in this very difficult conflict they're engaged in with the Taliban, and to listen and absorb all the criticisms they have," Clinton, who was in Egypt on Wednesday, told the popular National Public Radio in an interview from Cairo.
"They had this sort of pent-up frustration with the United States. And as you know and as you saw, I listened, and tried to convey understanding of all of their questions about our policy, going back years," she said.
At the same time, she said, she wanted to stress that the US was looking for a partnership and that they have to listen to American concerns as well.
"I feel strongly that as we move forward in these very complex areas that pose real concerns to our national security, concerns to partners like Pakistan's security, that it is important to make clear to the people -- not just the leaders -- that we have to speak openly with each other," Clinton said.
However, Clinton claimed that said she got an 'overwhelmingly positive' reaction in Pakistan.
"I've been reading a lot of the blogging and the reaction on the press -- in part because they're not used to anyone from the United States government coming and opening herself to their concerns," she said.
"They're just used to saying --- to having somebody say, take it or leave it, with us or against us, go forward or not. And so I think we're building a stronger base for our relationship," Clinton said.