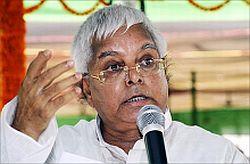 In an apparent reference to the Congress with which it failed to strike an understanding for the upcoming assembly polls in Jharkhand, Rashtriya Janata Dal chief Lalu Prasad has said national parties are out to 'crush' smaller and regional outfits.
"National parties want relentlessly to crush smaller and regional parties. They want to virtually eat them up in Bihar, Jharkhand, Uttar Pradesh and Maharashtra," he said.
But, leaders like Mulayam Singh Yadav of Samajwadi Party, Sharad Pawar of Nationalist Congress Party and Mayawati of Bahujan Samaj Party, besides him, will not get marginalised by 'such nefarious designs,' Prasad said at the RJD national executive meeting in Patna on Wednesday.
The RJD chief rued that the Centre listened to only those who commanded power and were with it. "You see whether it was Mahabharata, Mughal period or any other era, Delhi heard only the people with lathi (power)," he said.
Attacking the Centre, the former Union railway minister said the United Progressive Alliance-I, in which RJD was a coalition partner, had an agenda and common minimum programme, which the UPA-II lacks and is content with achieving a mere 100-day target.
There is a crisis of leadership at the Centre to steer the country out of the 'mess,' he said, adding, "Nothing tangible is visible in checking rising prices of essential commodities, rampant unemployment and problems before farmers and the health and education sectors."
Prasad hit out at the Janata Dal-United and the Bharatiya Janata Party, together accounting for 33 of the 40 Lok Sabha members from Bihar, saying they were unable to champion the cause of the state before the Centre.
He said the days of Nitish Kumar government are numbered and the main opposition RJD is set to return to power in the state. The former chief minister, who is extensively touring the state to revive the RJD base, said, "I am happy that the RJD has been kept out of UPA II. I would have been the railway minister once again had the RJD been in the ministry and that would have denied me the time to interact with our grass-root workers because of the busy schedule," he said.
Image: Rashtriya Janata Dal chief Lalu Prasad Yadav
Text: PTI