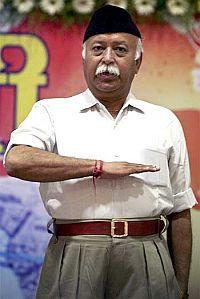 Rashtriya Swayamsevak Sangh chief Mohan Bhagwat had the final word on the crisis that gripped the Bharatiya Janata Party since Lok Sabha polls, declaring not to allow any Delhi-based leader become the party president and asserting that Lal Krishna Advani would quit as Leader of Opposition in Lok Sabha 'according to the schedule agreed by him.'

In a 90-minute interview to Prabhu Chawla of the India Today Group, he said Gujarat Chief Minister Narendra Modi and the RSS would never apologise for  the Gujarat massacre and, the Babri Masjid cannot be reconstructed in Ayodhya.

He launched an attack on Union Home Minister P Chidambaram, saying he  'speaks good words but lacks in action' and disagreed with him on tackling the Maoists with force. He said the Sangh does not favour use of the army against them.

Bhagwat said the government committed a mistake by not attacking the terrorist camps across the border after attacks on Parliament and 26/11,  and asserted that India needed a military victory against Pakistan to tackle terrorism.

On the ideological front, he reiterated that the 'two-nation' theory is not acceptable to the RSS, wanting Pakistan to become a part of India. He also said that there would never be any dilution of the RSS' stand on Article 370, Uniform Civil Code and the Ram temple.

He also took a hard Hindutva position on terrorism emanating from across the border and this week's Darul Uloom resolution asking the Muslims not to sing Vande Mataram.
Image: RSS chief Mohan Bhagwat