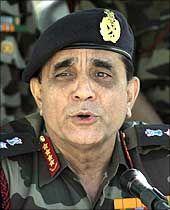 Army chief Deepak Kapoor on Tuesday warned that 26/11-type terror attacks were a possibility and that India has to take all steps to counter such strikes.
"We have to take all steps to prevent any Mumbai-type attacks. We cannot rule out apprehensions of such possibilities," Kapoor told mediapersons in New Delhi on the sidelines of an army function.
The army chief's warning comes a day after intelligence sources warned that Pakistan-based terrorists were all set to mount another 26/11 type of attack on Indian cities.
To a question if there were any terror alerts in the recent times, he said the South Asian region is infested with terror groups. Be it India, Afghanistan or Pakistan, 'we have to collectively battle such threats.'
Noting that Pakistan too had come under terror attacks in recent times, he said both Union Defence Minister A K Antony and Home Minister P Chidambaram had asked us to be cautious against such threats.
To allegations from Pakistan army that they have seized some Indian-made weapons from terrorists involved in recent attacks, the army chief said India had no intention of causing trouble inside Pakistan and that it did not support any terror group in the region. "We want Pakistan to be stable and peaceful," he said.
On the Naxal menace, Kapoor said the army would continue to train paramilitary forces to fight against the Naxals and it would be an ongoing process. "The battle against Naxals will not be over in one day. To eradicate Naxalism, it is going to take time. It is going to be a long drawn battle," he said, giving examples of counter- insurgency operations in Jammu and Kashmir and the Northeast, which had gone on for decades.
He said providing strategy and equipment to paramilitary forces in the fight against Naxals would be a futuristic option.
Image: Army chief Deepak Kapoor