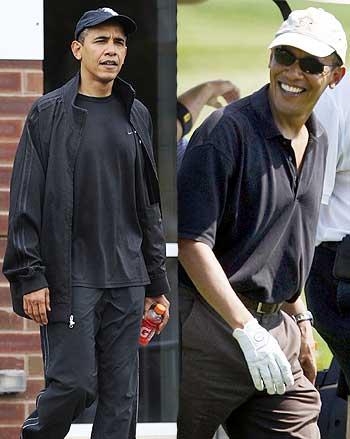 Recent photographs of Barack Obama, in which the United States President looks visibly thinner, has sparked concerns about his health.
The photographs were taken as Obama left a gym in Fort McNair, Washington. The US President's slimmer figure was due to 'rigorous workouts and high-stress basketball games', according to the Drudge Report website.
The website published the photographs with the caption 'Barack 'N Bones'.
Obama's thin frame has been the target of barbs by political opponents, including California Governor Arnold Schwarzenegger, who had said that the 'scrawny' President ought to do some 'squats'.
First Lady Michelle Obama, on the other hand, is admired for her toned figure.
Dismissing reports about Obama's weight loss being linked to his persistent smoking, a source told the website that the President did skip meals sometimes.
Obama has in the past hit back at comments about his slim frame, saying, "Just 'cause I'm skinny doesn't mean I'm not tough. I don't rattle."
Image: (Left) US President Barack Obama walks out of the gym at Fort McNair in Washington and (right) a healthier President plays golf during his vacation on Martha's Vineyard | Photographs: Reuters