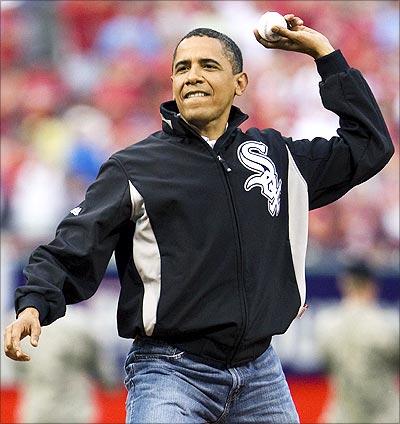 Barack Obama is one sporting US President, and he gave a glimpse of his game by throwing out the ceremonial first pitch to St Louis Cardinals' first baseman Albert Pujols before the All-Star baseball game on July 14.
Although it was not a perfect strike, left-handed Obama managed to throw the ball just short of the home plate, as Pujols reached out to catch it before it hit the ground.
Obama was on the ground sporting a White Sox jacket to represent his favourite team. He planned to throw a few pitches before taking the field for the ceremonial first pitch.
His predecessor George W Bush, warmed up in the indoor batting cage at Yankee Stadium before throwing the first pitch before Game 3 of the 2001 World Series.
'Well, I think it's fair to say that I want to loosen up my arm a little bit,' the New York Daily News quoted Obama as saying earlier.
As a US Senator, Obama threw out a first pitch at a White Sox game in 2005.
'Now, there was no clock on it, I don't know how fast it went -- but if it exceeded 30 miles per hour, I'd be surprised. But it did clear the plate,' said Obama.
Obama is the seventh President to appear at an All-Star Game, but only the fourth to throw out the ceremonial first pitch, joining John Kennedy, Richard Nixon and Gerald Ford, who did it twice.

Image: Obama throws out the ceremonial first pitch at the MLB All-Star game at Busch Stadium in St Louis
Photograph: Larry Downing