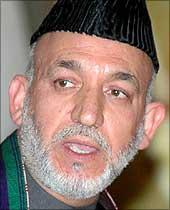 A sacked United Nations official has accused President Hamid Karzai of organising second poll fraud, as his main challenger on Monday pulled out of next weekend's runoff election amid fears of rigging, a news report has said.
Karzai's main rival Abdullah Abdullah on Monday announced he would not participate in next Saturday's runoff election because his demands for measures to prevent fraud were rejected.
"I will not participate in the November 7 election," Abdullah Abdullah told supporters, because a "transparent election is not possible."
Peter Galbraith, who was sacked as the deputy head of the UN mission in Afghanistan after alleging a cover-up of election fraud last month, said there was no doubt that the Karzai was running another massive fraud for the run-off polls against the former foreign minister.
"It's a sure thing," Galbraith said. "It is beyond blatant. This is in your face. It has become clear that Karzai has no intention of instituting reforms. He simply intends to repeat the same fraud. It is the same exercise as before. At some point enough is enough," he was quoted as saying by The Times online.
Galbraith, who left Afghanistan abruptly last month after accusing the the world body of failing to prevent Karzai rigging August's presidential election, said that UN workers overseeing the latest poll run-off had contacted him in recent days to say that nothing had changed and that the second-round vote will again involve fraud on a grand scale, the British daily reported.
Amid enormous pressure from the US and Britain, Karzai agreed to a run-off election after his victory was annulled following an investigation of numerous fraud allegations resulted in millions of votes being thrown out.
Abdullah has demanded Karzai sack the head of the Independent Electoral Commission and suspend four ministers who have campaigned for the incumbent.
Karzai, who fell fractionally short of an outright 50 percent majority in the first round, has so far flatly rejected the demands.
Galbraith has pointed out that the Afghan IEC, a body filled with Karzai's supporters is rehiring the very men accused of participating in August's electoral fraud.
"The UN had announced that 200 of these guys were going to be fired, now it turns out they are being rehired," Galbraith said.
Abdullah denounced the commission for fraud in the first round ballot August 20 and told supporters today that he offered demands to ensure a fair vote this time.
But he pointed out that his proposals were rejected, so "I will not participate in the November 7 election", claiming that a transparent run-off election was impossible in the present condition.
Image: Afghanistan President Hamid Karzai