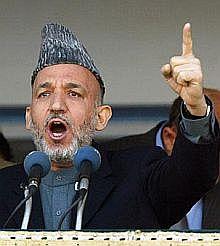 After initial skepticism, the Obama administration has finally begun to acknowledge that Hamid Karzai would be re-elected as Afghanistan's President for second consecutive term, media reports said on Monday.
As such the Obama administration and its North Atlantic Treaty Organisation allies were getting ready to work with Karzai for another five years and help him out in building institutions and improving governance in this war-torn country, The New York Times said.
"At a meeting of NATO foreign ministers in New York on Friday that included Secretary of State Hillary Hillary Clinton and Afghanistan foreign minister Rangin Dadfar Spanta, the ministers agreed that Karzai would likely prevail, either by his current victory margin of more than 50 per cent, or by winning a runoff against his main competitor Abdullah Abdullah," The NYT said.
The newspaper said the Obama administration has told Karzai that it believes he will be re-elected as the president for another five-year term, even though the results from the disputed August 20 vote are still under review because of evidence of widespread fraud.
A similar report published by The Washington Post said the US and NATO countries fighting in Afghanistan have told Karzai that they expect him to remain in office for another five-year term and will work with him on an expanded campaign to turn insurgent fighters against the Taliban and other militant groups.