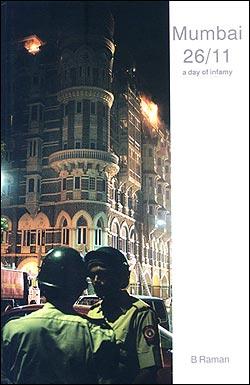 After his best-selling book,
The KaoBoys of R&AW
, which glanced at nearly 30 years of his sterling career in India's external intelligence agency, prolific
rediff.com
columnist B Raman is back with a new potential best-seller:
Mumbai 26/11, a day of infamy
(Lancer, Rs 395).
Raman, one of India's leading experts on jihadi terrorism, takes a typically incisive look at last November's terror carnage in Mumbai, which he believes was truly an attack by Pakistan on India.
While tracing the ascent of the Lashkar-e-Tayiba, the Pakistani terror organisation held responsible for the Mumbai terror attacks that killed 170 people and maimed at least 800 others, Raman reveals how then Pakistan president Pervez Musharraf asked the Inter Services Intelligence agency, the dreaded ISI, in 2002 to give jihadi organisations engaged in terrorism against India all the support they needed. In return, the merchants of jihad would support Musharraf's candidature in Pakistan's presidential election.
26/11, Raman argues in his 242-page book, is still not being treated with the seriousness required by the government even a year after the attacks. While foreign governments have sent teams to study the attacks and take away lessons from it, he says India's own investigations are neither thorough, comprehensive nor productive enough.
The book is handsomely illustrated by photographs shot by rediff.com photographers who meticulously documented those horrific 60 hours in Mumbai.