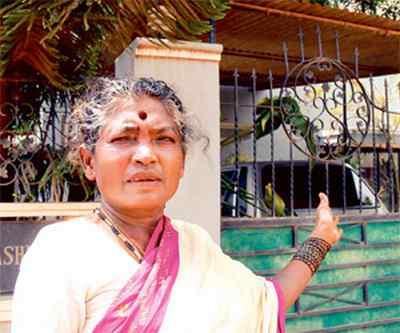 The news of Liberation Tigers of Tamil Eelam chief V Prabhakaran's death has created ripples across the world, but it makes no difference to Muniyamma, the milk vendor who tipped off the Bangalore police about Rajiv Gandhi's assassins in 1991.
What really matters to Muniyamma, 55, is that she is yet to receive the Rs 10 lakh promised to her by the police, for tipping them off about the whereabouts of Shivarasan and Shubha, LTTE operatives who were wanted in connection with the murder of Rajiv Gandhi.
Following the assassination of Gandhi in Sriperumbudur in 1991, LTTE operatives Shivarasan and Shubha had sought refuge in Konanakunte area in Bangalore. Muniyamma used to supply milk to the duo twice a day during their brief stay at Konanakunte.
"The police had put out a look out notice for them and because of the few trips that I made to their house, I managed to recognise them," Muniyamma recalls to rediff.com.
"I used to supply milk twice a day -- once at 5.30 am and again at 5.30 pm. Both of them were suspicious and never showed their faces clearly. They used to keep a vessel outside the house and I had to pour the milk into it. They paid me everyday for the milk and I managed to see their faces clearly only a couple of times," she adds.
"When the police received information about the two killers coming to this area, they began investigating and I informed the police about the duo's whereabouts. Based on this information, the police surrounded the house, but the two killed themselves. I made several trips to Chennai in connection with the investigation into the case. However, those trips were a waste of time since I never got a chance to meet any of the investigating officers in the case. I was made to wait and then sent back," she recalls bitterly.
"The police were extremely happy with my work and promised me a reward of Rs 10 lakh. I dreamt of a better life and thought that God had answered by prayers at last. I was called to the Central Bureau of Investigation's office on August 15, 1992. But to my utter dismay I was handed over a cheque of only Rs 60,000," she adds.
Her woes continued even after receiving the money. "I was sad that the police failed to live up to their promise. However, I used the money to buy six cows. Unfortunately, five of my cows were stolen a year later and till date the police have not acted upon my complaint," says Muniyamma.
Speaking on the news of Prabhakaran's death, she says, "It makes no difference to me. I have problems of my own."
Image: Muniyamma | Photograph Courtesy: Nagaraj G