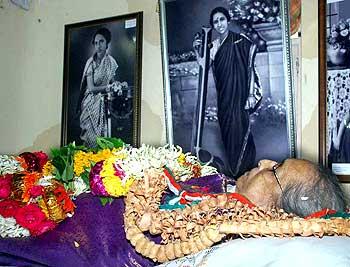 Legendary singer Gangubai Hangal was laid to rest at Hubli in northern Karnataka on Wednesday. The doyen of Hindustani classical music passed away at a private hospital in Hubli on Tuesday morning.
Hangal was given a state funeral in the presence of her family members and thousands of followers who had gathered to pay their last respects. The body was kept in a glass casket and later taken out, in a procession, through the streets of Hubli. Several admirers of the classical vocalist gathered on the streets to catch a last glimpse of their akka (sister).
Speaker of the Karnataka Legislative Assembly Jagadish Shettar and Legislative Council Chairman Veeranna Mathikatti were among the political leaders who took part in the proceedings. A state police contingent offered a gun salute as the last rites of the singer were conducted at the Gangubai Gurukul trust.
The state government has declared two-day mourning period and schools and colleges in Hubli and Dharwad remained shut today as a mark of respect.
Photograph: KPN Photos