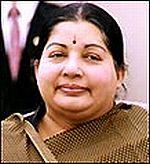 All India Anna Dravida Munnetra Kazhagam chief Jayalalithaa on Wednesday alleged that the ruling Dravida Munnetra Kazhagam had indulged in various electoral malpractices to secure victory in the bye-elections to the Tiruchendur and Vandavasi assembly constituencies.
"Since they (DMK) have indulged in using muscle and money power during this election, the victory is only artificial", she said in a statement in Chennai.
Alleging that the Centre was also backing DMK's 'unethical activities', she said 'this will not continue for long. Undemocratic atmosphere will soon change.'
Asking her candidates not to get upset by the results, she urged them to continue their work in a democratic way
She alleged that since the Election Commission had failed to take steps against DMK for its 'high-handedness', her party had boycotted the previous five assembly bye-elections in August.
"Though the results were on expected lines, AIADMK had fielded candidates for (December 19) by-polls because a time should not come that no one will be there to compete with them(DMK)," she said.
Image: AIADMK chief Jayalalithaa