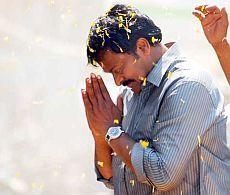 In a major political development, Praja Rajyam Party chief and Telugu superstar Chiranjeevi resigned from the state assembly on Thursday, in a bid to throw his weight for a united Andhra Pradesh.
Chiranjeevi, who had fought the last elections promising a separate Telangana state, changed his position late on Wednesday night after constant pressure from his supporters in the other two regions, and decided to resign from his Tirupati assembly constituency.
This has left his the 16-month-old party vertically divided as the two legislators of PRP from Telangana region, E Anil and Maheshwar Reddy, have raised a banner of revolt against Chiranjeevi. "By changing his stand over night he had lost entire credibility," said Maheshwar Reddy who was elected from Nirmal constituency in Adialabad district.
In its election manifesto, PRP had promised to work for a 'democratic Telangana state' but ever since the Union Home Minister P Chidambaram announced the start of the process for the formation of Telangana state, like Congress and the Telugu Desam, PRP too suffered a major divide along the regional lines.
While Chiranjeevi is expected to explain the reasons behind his volte face when he formally announces his resignation, the party sources said that it was an outcome of realisation that the PRP did not have much of a future in the Telangana region, as 15 of its 17 assembly seats in the last polls had come from coastal Andhra and Rayalaseema region.
PRP leadership was expected to allow the leaders from Telangana region to form their separate unit.
After formally submitting his resignation to the state assembly speaker Kiran Kumar Reddy, Chiranjeevi will leave for Tiruapti and is expected to go on fast.
So far 140 MLAs of Congress, TDP and PRP have submitted their resignations to the Speaker. 
Chiranjeevi made up his mind late on Wednesday night to come out fully in support of united Andhra Pradesh after a series of incidents in which the theatres screening the film of his relatives were targeted by the protestors.
Pro-Telangana demonstrators did not allow the theatres to screen the film Arya-2 of Chiranjeevi's nephew Allu Arjun and tore apart and burnt its posters in several cities and towns across the region. They also targeted the theatres showing 'Magadheera,' starring Chiranjeevi's son Atmacharan Teja.
Meanwhile, another top Telugu film star Mohan Babu has also started his hunger strike in Tirupati in support of integrated Andhra Pradesh. He met the students of Sri Venkateshwara University who are holding their relay hunger strike for the last six days protesting against the plans of formation of Telangana state.
"I am in favour of an integrated Andhra Pradesh as per the wish of late Nandamuri Taraka Rama Rao," Mohan Babu said.
Meanwhile, tension was prevailing in Vijaywada where the police tried to end the five-day-long fast by TDP legislator D Umamaheshwara Rao and former city mayor B Uma.
But the two leaders have locked themselves in Panchayat Raj guest house and are continuing their fast. While police was trying to persuade them to go to the hospital in view of their deteriorating health condition, the leaders have refused.
The place was surrounded by hundreds of slogan-shouting supporters who are threatening to commit self-immolation if the police forcibly enters the building to take away the fasting leaders.
Another TDP legislator Ch Ramakotaiah, who was fasting with Umamamaheshwara Rao, has already been taken to the government hospital, but he was continuing his fast there too.
Congress Member of Parliament from Vijaywada L Rajagopal was continuing his fast-unto-death on fourth day on Thursday.
Normal life remained paralysed in Anantapur district for the seventh day on Thursday, as students of Srikrishna Devaraya University kept up their protests.
In Kadapa, braving heavy rains, member of legislative council and former chief minister YS Rajasekhara Reddy's brother Vivekananda Reddy was also continuing his indefinite fast.