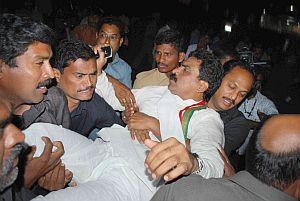 The police arrested Congress Member of Parliament from Vijaywada, L Rajagopal, on Monday night after he staged a sit-in protest at the Lalbahadur Stadium in Hyderabad against the proposed bifurcation of Andhra Pradesh.

Ten members of legislative assembly and council, who were with him, were also arrested by the police and sent to Falaknuma police station in the city. This is the second time in the day that Rajagopal has been arrested.
Hyderabad city Police Commissioner R Prasad Rao said Rajagopal was arrested from the LB Stadium, as the gathering was unlawful and there was a fear of breach of peace.
The drama, involving Rajagopal that started on Monday morning following his arrival at the Hyderabad airport and arrest by the police, continued till late in the evening.
While the police released him on personal surety in the morning after taking him to Pahadi Shareef police station, the second time he was likely to remain in custody till Tuesday.

Rajagopal, who met Chief Minister K Rosaiah on Monday morning, later held a long meeting with the Congress MLAs and other leaders from Andhra and Rayala Seema region to chalk out the future course of action. Later, Rajagopal walked from the assembly to nearby Lal Bahadur Stadium. When hundreds of his supporters also tried to follow him in procession the police prevented them.
Rajagopal later sat with other party leaders in the stadium complex and said that he was there to meet the leaders and representatives from all the 23 districts.
"Even the separatists are welcome here. They can come and discuss their problems here," he said.
When asked by the reporters whether the stadium could also be the venue for his proposed fast unto death, he answered in affirmative. Meanwhile, the police swooped down on the stadium and removed all the people from there. When Rajagopal tried to stop the police, he was arrested.
Rajagopal, who is also the managing director of LANCO Power Company, and has varied business interests, including Real Estate in Hyderabad, has said that he will lead the agitation in support of integrated Andhra Pradesh.

Photograph: SnapsIndia