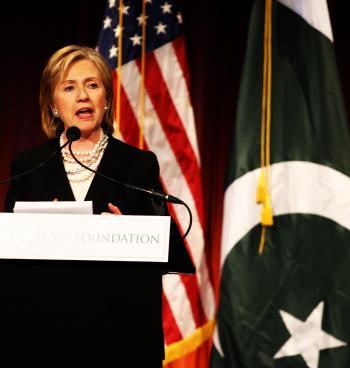 As Pakistan battled growing Taliban insurgency, the US has said the country is at a "critical juncture", but acknowledged that the "trust deficit" between the two sides is holding back their cooperation.
"Pakistan is a nation close to my heart," Secretary of State Hillary Clinton said at an event to launch American-Pakistani Foundation on Friday in New York.
Warning that Pakistan -- which has witnessed a string of terror attacks in recent weeks as its army fought al-Qaeda and Taliban militants in the country's northwest -- is at "a critical juncture," Clinton said "we all have a stake in Pakistan's future."
"We (the US) seek not to impose our preferences on Pakistan or to override the government's judgments or subvert the people's will. Instead, we want a relationship based on mutual respect and shared responsibility," she said.
"The United States has taken major steps in recent months to support Pakistan as it seeks to strengthen democratic institutions, foster economic development, expand opportunity, and defeat the extremist groups who threaten both Pakistan's security and America's," she said.
So when people question the US commitment, "I point to what we have already done and what we are preparing to do," Hillary said.
During her October trip to Pakistan, she said, she experienced the scepticism felt by many in Pakistan about America's motives and commitment. "This trust deficit holds us back from working together as well as we could and as well as we must."
Each of you, and this organisation now, is uniquely positioned to help close that gap by fostering greater understanding between our nations and by contributing in concrete ways to Pakistan's stability, social, and economic development," Clinton said.
She said that President Barack Obama and his administration have worked hard to change the perception of the US purpose in Pakistan both with words and with deeds.
"One of the main goals of my trip was to reach out to a broad community of Pakistanis, to hear their needs, hopes and concerns, and to ensure that the United States is on the right track in our effort to build a stronger partnership. That is a key goal of the Obama Administration's foreign policy and it is a personal priority for President Obama and me," she said.
The US, Clinton said, plans to focus more of its assistance on large 'signature' projects – not only in energy, but in transportation, agriculture, water, and education as well.
"In order to highlight our partnership, we want to make it clear that the United States is investing in the people of Pakistan. We want to see more children in school.
"We want to see more mothers given the healthcare they need to bear and raise healthy children. We want to see more young men working towards a better future of peace and stability and prosperity," Clinton said at the event.
The American-Pakistani Foundation is co-chaired by ex-secretary of State Colin Powell and former Pakistan premier Moeen Qureshi.
Image: Snaps India