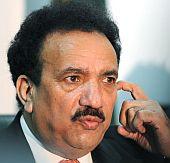 Pakistan will respond "effectively" if India's alleged involvement in acts of terrorism within the country was proved, Interior Minister Rehman Malik said on Thursday.
"If India is involved in terrorist incidents in Pakistan, it will be responded (to) effectively," he told reporters after visiting people injured in the recent terrorist attack in a market in Lahore.
The government will not compromise on the country's security and integrity and has "categorically warned India to stop its interference in Balochistan", he claimed.
The world community, including the US and UN, has been informed about India's alleged interference in Pakistani territory, he added.
"A report has been sent to the foreign ministry about the involvement of India in terrorist incidents in Pakistan... We will not allow miscreants to use our soil for terrorist activities," he said.
India has denied Pakistan's allegations that it is fomenting unrest in Balochistan and the tribal areas bordering Afghanistan.
Malik's allegations, however, have not been endorsed by Foreign Minister Shah Mahmood Qureshi, who said on Wednesday that evidence gathered by Pakistan about India's alleged interference was "insufficient".
Malik also claimed Pakistani security forces had seized four trucks carrying "Indian made arms" in Waziristan and other tribal areas.
He criticised India for not sharing intelligence to check terrorism, saying: "If India had shared information, the Mumbai attacks could have been avoided".
Pakistan will not hand over Jamaat-ud-Dawah chief Hafiz Mohammad Saeed to India, he said.
"We will take action against anybody involved in terrorism according to our laws," he added.
India has said Saeed was the mastermind behind the Mumbai attacks and urged Pakistan to take action against him.
Image: Pakistani Interior Minister Rehman Malik