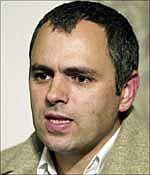 In the backdrop of an attack on a top separatist leader, Jammu and Kashmir Chief Minister Omar Abdullah on Monday met Union Home Minister P Chidambaram and reviewed the ongoing peace process and security situation in the state.
During the meeting, which lasted nearly 40 minutes, the CM told the home minister that the assassination attempt on moderate Hurriyat leader Fazal Haq Qureshi was carried out by those who want to sabotage the peace process.
"Both the leaders discussed the situation in Jammu and Kashmir, the recent attack on Hurriyat leader Qureshi, talks with separatist leaders and every shade of political opinion," a source said.
On the issue of troop reduction, Omar suggested the home minister take a calibrated approach and favoured that every step be taken with utmost caution.
The Centre has already given a road map for withdrawal of nearly 25 battalions of paramilitary forces comprising the Central Reserve Police Force, the Border Security Force and the Indo-Tibet Border Police from the state.
While some have been shifted out, others will also be done slowly once their replacement by the India Reserve Battalions from various states was firmed up.
The CM also told the home minister that security of separatist leaders has been increased further but some of them were still refusing to take security cover.
Image: Jammu and Kashmir Chief Minister Omar Abdullah