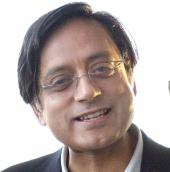 Seeking to explain the absence of the terror activities directed against India, in the United State's new Af-Pak strategy, India has said the Barack Obama administration was 'looking at' terrorist groups like Lashkar-e-Tayiba and Jaish-e-Mohammad 'off-camera'.
Welcoming the Af-Pak policy unveiled on Tuesday, Minister of State for External Affairs Shashi Tharoor said the pressure maintained by the US on the Taliban and the Al Qaeda there is in the interest of India as it keeps such elements on the 'back-foot'.
"Af-Pak is Afghanistan and Pakistan and does not include India. he US President was addressing his own people about the commitment his government made to the people and to sent their national troops to the foreign land," Tharoor said during an interview to a TV channel while explaining why terrorism in India found no mention in the policy.
When it was pointed out that even terror groups such as LeT and Jaish-e Mohammed, which are based in Pakistan, found no mention in the US strategy, Tharoor said the US was not engaged in any operations against India's 'immediate enemies'.
On whether it meant that the US was ignoring India's concerns on terrorism, he disagreed, saying, "The US is looking at the terrorism that affects us, and it's off-camera."
Tharoor added there should be no distinction between Al Qaeda inspired terrorists and terror directed against India.
"For us, there is no difference between somebody who wants to kill people in Bali or Mumbai," he said. Pointing out that easing pressure on the Taliban and the Al Qaeda on the Af-Pak border affects India, he said, "It is a good thing for us that the aspect of the problem is dealt with and those people are kept on the back-foot."
Asked whether India can rely on Obama as he says, "something to India and something else to Pakistan", the MoS of External Affairs said, "We are not relying on anybody to get this problem (of terrorism) solved."
"India stands on its two feet and we deal with our own problems," he said, adding that the US has been a "positive and supportive element on this issue".
On US Defence Secretary Robert Gates' assessment that terror groups would carry out attacks against India to divert attention, the minister said India was not scared, but the country needs to be careful and vigilant.
 "We cannot be complacent because there have been no major attacks in the last one year, but that does not mean that it will last for another year," he said.
He allayed fears about the Obama administration being influenced by Pakistan's view on Kashmir, saying India has been dealing with the new government for the last 11 months at all levels and "every indication is that the US does not think that way about our problem".
Tharoor noted that the US has made several statements favouring the resolution of Indo-Pak problems through dialogue between the two countries. On Pakistan diverting US military assistance for use against India, he said India has shared its concerns with the American administration at all levels.
"Support Pakistan by all means in this battle, but keep an eye on what you give and how it is used and show them that there is no blank cheque. This cannot be turned around to be used against us," he said, citing the message given by India to the US.
Citing media reports that Pakistan spent only 687 million dollars for procuring weapons out of the 11 billion dollars given to them since 9/11, he said, "What I want to say is that not every figure that we see is necessarily pointing in to a barrel pointed at India."
Tharoor added that India did not need to worry as Pakistan can buy whatever equipment it requires but "when it comes to conflict, we are prepared".
On whether India was concerned about the safety of Pakistani nuclear weapons, he said, "We do not have first hand information on that. Certainly, those who are very close to Pakistan seem to be convinced that there is nothing to be worried about."
He said Pakistan has a very strong military establishment and the army there was not going to lose control over their 'most prized assets'.