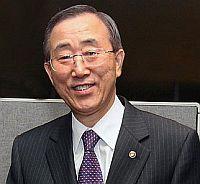 United Nations Secretary General Ban Ki-moon on Wednesday welcomed US President Barack Obama's new Af-Pak strategy, in particular the initiative to boost 'civilian efforts' to make Afghan institutions stronger and entrust more responsibilities to domestic authorities.
"The Secretary-General welcomes the new US plan for Afghanistan announced by President Barack Obama," Ban's spokesperson told mediapersons in New York.
"He notes with appreciation the proposed approach to balance military and civilian efforts and the emphasis on strengthening the capacity of Afghan institutions and Afghan security forces in particular," she said.
The secretary general noted that 'institution-building is a long-term but necessary process that will ultimately ensure the sustainability of the international community's joint efforts in Afghanistan.'
However, deep skepticism remains about the ability of the US to train Afghan troops, whose quality and quantity remain woefully inadequate, and strengthen domestic institutions in a country where the government is riddled with corruption.
Obama on Wednesday ordered 30,000 extra troops to Afghanistan and vowed that a military withdrawal would start by July 2011.
Image: UN Secretary General Ban Ki-moon