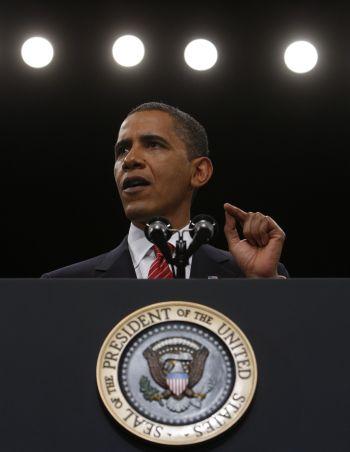 After three months of intensive review of his Af-Pak policy, US President Barack Obama on Tuesday announced to send an additional 30,000 troops to Afghanistan and begin withdrawal of troops in 18 months.
"I have determined that it is in our vital national interest to send an additional 30,000 US troops to Afghanistan. After 18 months, our troops will begin to come home," Obama announced in his speech at the West Point Military Academy in New York.
"The 30,000 additional troops that I am announcing tonight will deploy in the first part of 2010 -- the fastest pace possible -- so that they can target the insurgency and secure key population centres," Obama said.
"They will increase our ability to train competent Afghan security forces, and to partner with them so that more Afghans can get into the fight. And they will help create the conditions for the United States to transfer responsibility to the Afghans," the president said.
Noting that US' security was at stake in Afghanistan and Pakistan, Obama said, "This is the epicentre of the violent extremism practiced by the Al Qaeda. It is from here that we were attacked on 9/11, and it is from here that new attacks are being plotted as I speak.
"This is no idle danger; no hypothetical threat. In the last few months alone, we have apprehended extremists within our borders who were sent here from the border region of Afghanistan and Pakistan to commit new acts of terror," he said, adding this danger will only grow if the region slides backwards, and the Al Qaeda can operate with impunity.
"We must keep the pressure on the Al Qaeda, and to do that, we must increase the stability and capacity of our partners in the region," he said.
Observing that this was not just America's war, Obama said since 9/11, the Al Qaeda's safe-havens have been the source of attacks against London, Amman and Bali.
The people and governments of both Afghanistan and Pakistan are endangered, he noted.
"And the stakes are even higher within a nuclear-armed Pakistan, because we know that the Al Qaeda and other extremists seek nuclear weapons, and we have every reason to believe that they would use them," he said.
"These facts compel us to act along with our friends and allies. Our overarching goal remains the same: to disrupt, dismantle, and defeat the Al Qaeda in Afghanistan and Pakistan, and to prevent its capacity to threaten America and our allies in the future," Obama said.
"To meet that goal, we will pursue the following objectives within Afghanistan. We must deny the Al Qaeda a safe-haven. We must reverse the Taliban's momentum and deny it the ability to overthrow the government.
"And we must strengthen the capacity of Afghanistan's security forces and government, so that they can take lead responsibility for Afghanistan's future," Obama said.
Stating that this was an international effort, Obama said he has asked that US commitment be joined by contributions from its allies.
"Some have already provided additional troops, and we are confident that there will be further contributions in the days and weeks ahead," he said.
"Our friends have fought and bled and died alongside us in Afghanistan. Now, we must come together to end this war successfully. For what's at stake is not simply a test of
NATO's credibility -- what's at stake is the security of our Allies, and the common security of the world," Obama said.
"Taken together, these additional US and international troops will allow us to accelerate handing over responsibility to Afghan forces, and allow us to begin the transfer of our forces out of Afghanistan in July of 2011," he said.
"Just as we have done in Iraq, we will execute this transition responsibly, taking into account conditions on the ground. We will continue to advise and assist Afghanistan's security forces to ensure that they can succeed over the long haul.
"But it will be clear to the Afghan government -- and, more importantly, to the Afghan people -- that they will ultimately be responsible for their own country," Obama said.
Image: US President speaks on the Af-Pak policy at the U.S. Military Academy in West Point, New York, on Tuesday | Photograph: Shannon Stapleton/Reuters