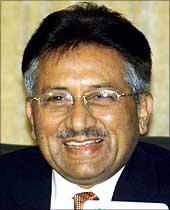 With the expiry of the two-year political ban on him, former Pakistani president general Pervez Musharraf has started consultations with his close aides to announce his comeback in the country's politics.
According to sources, Musharraf is in contact with several Pakistan Muslim League-Q leaders to fine-tune his political strategy for his comeback within the next two to four months.
Pakistan Muslim League-Q leader, Sher Afgan Niazi said his party and the Pakistan Muslim League-F would welcome Musharraf on his arrival in Pakistan.
Niazi claimed that even the Muttahida Qaumi Movement has a "soft corner for Musharraf", and the party would support him on his entry into politics.
"Musharraf will most probably come to Pakistan within the next two to four months," said Niazi.
Sources said Musharraf's associates have told the former general that his supporters and close aides do not have the same power which they enjoyed earlier, and lack the will to obtain people's support for him.
"Senior PML-Q leaders have told Musharraf that two of his staunchest supporters in Pakistan, Barrister Muhammad Ali Saif and Major General (retired) Rashid Qureshi, are incapable of gathering people on a new political platform for him," The Daily Times quoted a PML-Q leader, as saying.
He said Musharraf had also asked PML-Q aides to woo district nazims to gather support for him.
"Musharraf tells everybody he will return soon... but he does not give a date," the leaders said on conditions of anonymity.
Musharraf, who is currently in London on an unannounced exile, has been trying hard to bring his former supporters together.
The former general has already held several round of meetings with several of his close associates in the PML-Q, including leaders of dissident group Hamid Nasir Chatta, Saleem Saifullah Khan and Humayun Akhtar.
Sources said Musharraf has urged his close supporters to contact politicians for the formation of an 'unified' Muslim League excluding the Nawaz Sharif led Pakistan Muslim League-Nawaz.
According to the report, Musharraf is planning to float a new political party and has recently "funnelled large sums of money into the coffers of former aides to promote his cause".
"These include former minister of information Sheikh Rasheed, who... has been paid 1 million dollars, the same amount that went to a public relations team to boost Musharraf's image," the report said.
The report also revealed that former general has received millions of dollars in donations from various corporate biggies and his close associates.
Image: Former Pakistani president Pervez Musharraf