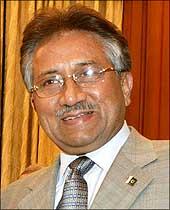 Amid the demand for the trial of Pervez Musharraf for treason by the opposition PML-N, the former president will participate in Pakistan's politics after November 30 when a two-year constitutional bar on him holding public office ends, one of his close aides has said.
"Musharraf would unite various factions of the PML-Q and participate in politics from that platform," Chaudhry Shahbaz, a PML-Q leader and a former federal minister, told reporters here yesterday. Shahbaz met Musharraf in Saudi Arabia last week for consultations.
He said the two-year constitutional restriction that prevents Musharraf from participating in politics will end on November 30, after which "he would announce his future strategy".
Pakistani laws bar Musharraf, 66, from joining active politics for two years from the date on which he stepped down as army chief. The former military ruler has been living outside Pakistan since mid-April.
Musharraf's legal problems have been compounded since the Supreme Court declared in July that the emergency imposed by him in 2007 was unconstitutional and illegal. The ruling has raised the possibility of his trial on charges of treason.
It is believed Musharraf visited Saudi Arabia to lobby the royal family to use its influence with opposition PML-N chief Nawaz Sharif, who has been insisting on the former military ruler's trial. Sharif is scheduled to visit Saudi Arabia later this week.