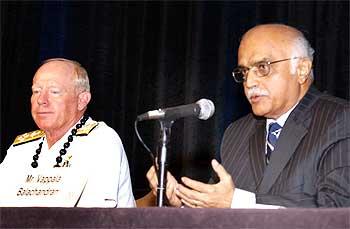 The US favours a significant role for India in ensuring peace in Afghanistan but said it has to decide whether it wants a military presence in the war-ravaged country, a top American military commander said on Friday.
"The US and the coalition in Afghanistan are all interested in Afghanistan succeeding, Pakistan remaining stable and solving their own internal problems, and there is a sense of urgency in things being accomplished. So the US should welcome all assistance in the region in Afghanistan and Pakistan challenge that I think we all face," US Pacific commander, Chief Admiral Robert F Willard told media-persons in New Delhi.
However, "it is for the Indian military and the Indian government to decide" if it wanted a role in post-withdrawal of US troops from Afghanistan, Willard, who took over as US Pacific Command chief six weeks ago after serving in the Asia-Pacific region as Fleet Commander, said. He was replying to questions if America was satisfied with the quantum of Indian participation in the Afghan peace process and if it would favour a military presence for India post its troops withdrawal.
Willard, however, replied in the negative when asked if he had discussed any ground-level joint military operations by India and US in Afghanistan in the future. "No, that has not been part of my dialogue (during my current visit)". "On the other hand, I have been talking to India about their assistance to Afghan people and humanitarian assistance, and their continued support to see Afghanistan stabilise and see that infrastructure in Afghanistan improves," he said.

Willard said the US and India have discussed the latter's role in Afghanistan and Pakistan during every engagement, including during Prime Minister Manmohan Singh's recent talks with US President Barack Obama in Washington. "This is a subject we continue to discuss as nations. During Prime Minister Singh's discussions with President Obama, the subject of Afghanistan, Pakistan stability and India's role in the region figured," he said.
India was playing a responsible role in Afghanistan, Willard said adding, "whether India should see or desire to contribute more is entirely for India to decide." On India-America relations, the commander said they were one of the most important to the US and would be the focus of the US Pacific Command which wants to foster the relationship.
Willard, who met the Indian military leadership on Thursday to hold talks on topics of common interest, said the two sides had talked about the importance of both the Communications Inter-operability Security Memorandum of Agreement (CISMOA) for information sharing and Logistics Support Agreement (LSA) that envisages cashless supplies at each other's military bases.
"Those agreements are continuing to progress through the administrative process in India. We think that the information sharing agreement and LSA are in India's best interests," he said, adding India has to examine the document and explore if it met its needs. "So when we encourage their passage and acceptance, at the same time we understand India's need to examine the agreements carefully and ensure that they meet the interests of India when they are finally signed," he added.
To a query if the US was reducing its military presence in the Indian Ocean, Willard said it was not on the decline and that their 60 ships and air presence remained the same due to the "importance of the region." He said the greater importance of India as an economic and military power was evident to both the US and its coalition partners, particularly in areas of counter-terrorism and protection of the sea lanes in the Indian Ocean region.
Photograph: File picture of Admiral Robert Willard, Commander, US Pacific Fleet, who is currently on a visit to India, with former senior Research and Analysis Wing official V Balachandran at the 2009 Asia Pacific Homeland Security Summit in Honolulu, Hawaii