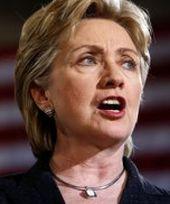 United States Secretary of State Hillary Clinton has said that Al Qaeda is seeking access to nuclear weapons and the international community needs to be wary about it.
"There is no doubt in any of our minds that Al Qaeda seeks nuclear material, seeks access to nuclear weapons," Clinton told US Senators at a hearing on Afghanistan convened by the Senate Foreign Relations Committee.
"The recent arrests here in our own country trace back to Pakistan and trace back certainly in the case of Zazi, directly to an Al Qaeda-originated training camp and training programme. But finally and perhaps most chillingly the fact that Pakistan is a nuclear power raises the stakes enormously," she said.
Admiral Mike Mullen, Chairman of the Joint Chiefs of Staff, said the terrorist central cells that are there on the Af-Pak border is really the headquarters of the Al Qaeda and the Taliban.
"There are other franchise cells throughout in places like Yemen and Somalia, but this is the most dangerous one," he said.
Noting that they all need to be addressed, Mullen said: "This has a significantly more capable centre of gravity, if you will, because of all the organisations that are associated with Al Qaeda in this border area," he said.
Defence Secretary Robert Gates said rolling back the Taliban is now necessary even if not sufficient to the ultimate defeat of Al Qaeda.
"At the same time, one cannot separate the security situation in Afghanistan from the stability of Pakistan, a nuclear-armed nation of 175 million people now also explicitly targeted by Islamic extremists," he said.
"Giving extremists breathing room in Pakistan led to the resurgence of the Taliban and more coordinated, sophisticated attacks in Afghanistan. By the same token, providing a sanctuary for extremists in southern and eastern Afghanistan would put yet more pressure on a Pakistani government already under attack from groups operating in the border region," he said.
Just in terms of underscoring the central role of Al Qaeda in the Afghan-Pakistan border area, the reality is that Al Qaeda in the Islamic Maghreb, Al Qaeda in the Arab Peninsula place high value on their affiliation with Al Qaeda in that border area, Gates said.
"There is ample intelligence showing other terrorist groups that basically are in the application process to become affiliates of Al Qaeda. So the central mythology and the central role of these people is still there," he said.