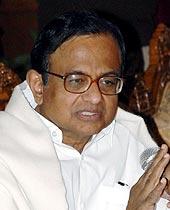 Home Minister P Chidambaram on Wednesday said Kashmiri groups had responded positively to the Centre's initiative of "quiet talks" and hoped a solution will emerge.     
Replying to questions in the Rajya Sabha, he said the government would not shy away from talking to any organisation, some of which are demanding self-rule.
The home minister said there was "very positive response" and the government was willing to talk to "every shade of political opinion" in Jammu and Kashmir.
"These will be quiet talks, quiet diplomacy... far away from the glare of media," he said, adding he could not share details of the talks at this moment.
Noting that the response to the proposal was encouraging, he hoped a "solution will emerge".
Chidambaram said Jammu and Kashmir had a number of groups with a number of demands. And even though some groups had demanded right of self-determination or self-rule, "I do not think we should shy away from talking to any group."
Asked if Jammu and Kashmir Chief Minister Omar Abdullah too shared the Centre's perception of having "quiet talks", he said, "I think I know Omar Abdullah's position... we are on the same page."
Answering supplementaries, he said there would be no talks with Pakistan unless it brings to book the perpetrators of the Mumbai terror attacks.
"There are no talks with Pakistan," he said.
"The prime minister has already stated that unless Pakistan brings to book the preparatory of 26/11 Mumbai (terror) attacks and dismantles terrorist infrastructure (in that country), there is no scope for talks with Pakistan," Chidambaram said.
The home minister said Prime Minister Manmohan Singh had in October stated that the "talks could be held with anyone who has any meaningful idea for promoting peace and development in Kashmir".
Singh was also willing to carry all sections of the people in resolving the political and economic problems of Jammu and Kashmir, Chidambaram said.
He said some groups have indicated an interest in holding talks and pointed out that there was tremendous improvement in security situation in the state during the past few months.
Image: Home Minister P Chidambaram